Wizard City is one of five "worlds" in Wizard 101 (the others are Krokotopia/Krokosphinx, Marleybone, MooShu, Dragonspyre, and Grizzleheim. It is where all players begin the game, and is the only place that can be played without purchasing either Crowns or a game subscription.
It is divided into 11 major areas, all but four of which are accessible free:
Map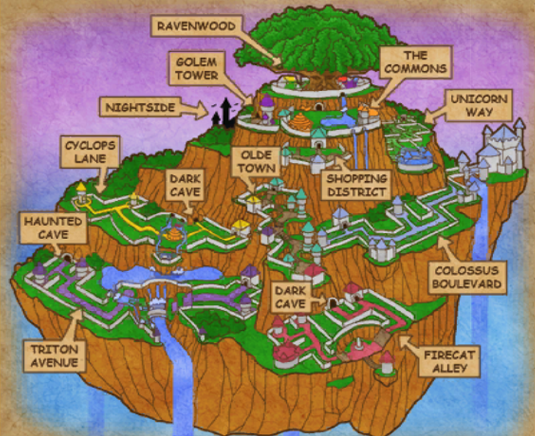 Lore
Wizard City is at the center of all things. The entire city has sprouted up around Bartleby, the World Tree. Bartleby protects all worlds by eternally maintaining a connection to them along the Spiral. Wizard City is also home to the Ravenwood School of Magical Arts and its esteemed faculty of renowned wizards. All wizards get their start in learning about magic and choosing a specific class at this historic institution.
Recently, a shadow has crept over Wizard City and Merle Ambrose, Headmaster of Ravenwood, has begun his search to find courageous young Wizards who can save Wizard City.
All new Wizards start out in Wizard City, and get their first quests from Merle Ambrose. As a player continues to grow and level up, Ambrose continues to be a key NPC, giving the player many gateway quests to new areas and quest-givers.
NPCS
Creatures
Community content is available under
CC-BY-SA
unless otherwise noted.