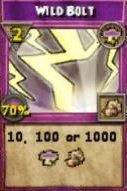 School:

Pip Cost: 2
Accuracy: 70%
Type:

Description: Does either 10, 100, or 1000

to target.
Received From: Bad News...
Requirements:
Required Character Level: Given when you finish the main Marleybone story line if you are a Diviner.
Spells:
Prerequisite for:
Spells:
Can be purchased with Training Points*: No
*Training Points are only required if you do not belong to the School of the spell. If you belong to the School, the spell is FREE.

For Documentation on how to edit this page see Template:SpellInfobox/doc.
Hints, Guides and Discussions should be placed in the Discussion tab.
Community content is available under
CC-BY-SA
unless otherwise noted.