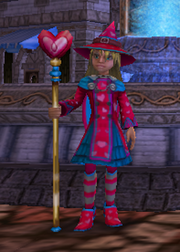 Valentina Heartsong is a Holiday NPC, she appears for Valentine's Day (February 14), stays for a short period of time and then disappears. She sells exclusive items, themed just for the holiday which will not be available after she has left. Valentina Heartsong in February 2009 was one of the first Holiday NPC'S to offer items for different levels, making them useful for wizards at any game stage rather than the primarily decorative items that had been available for past holidays.
Location
Gives quest
Ends quest
Heartfelt Gifts
Crown's Only
These items were sold here in February 2009, they may not remain the same for coming years
Wands
Pets

Hints, Guides and Discussions should be placed in the Discussion tab.