Welcome
Hi, welcome to Wizard 101 Wiki! Thanks for your edit to the User:LauraAshthief page.
Please leave a message on my talk page if I can help with anything! -- ErinEmeraldflame (Talk) 16:27, 14 November 2010
P.S. Always make sure to press the "Source" button in the upper right of the Edit window before making any edits. Not doing so messes up the code on the pages, thanks!
Hi
Hi there, please be aware of what is happening on the site from the main page and the forums, thanks :) ErinEmeraldflame 03:49, November 23, 2010 (UTC)
Your Welcome
Hey no problem you have to go back one by one to fix it i try to keep the wiki up to date if your online now i can come find you and add you and we can hang around in the game, just tell me where. Name Laura Ashtheif correct? i'm Brooke Wyrmflame i'm on a show ram if it helps. --Brooke Wyrmflame 01:54, May 21, 2011 (UTC)
Gloom Toad
Hybrid Pet not First generation! Matramos 01:49, May 25, 2011 (UTC)Matramos

Sorry about that, was looking at heckhound's info page when I did it. I: I'll remember that for others.
Laura Ashthief
Stuff
Hey! Scarlet here! o. o so how was your day?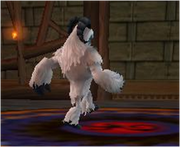 I see you've been busy :D
Noobs
Sorry about that, ill use one of my wizards
Moving pages
Please really, don't move pages around on the site. If you don't change every single page affected by a move it messes up all the linkages elsewhere on the site. If a page needs to be moved, admin tag it with the reason, thank you. ErinEmeraldflame 06:59, July 11, 2011 (UTC)
Yes, you only moved the one page, and you picked an appropriate name. I'm just asking that in the future you ask me to do it with an admin tag. When a page is renamed, everything referring to that page elsewhere on the site also needs to be renamed, otherwise it creates broken links on the site.
So our policy to prevent several to hundreds of bad links from being created (and to prevent pages from being moved to wrong names) is to ask an admin to rename the page. The admin have a working knowledge of the entire site and can make sure everything works properly after the move. Any pages linked to that page are dead links because of the move, and after a move those links cannot be readily found to be fixed.
Thanks, ErinEmeraldflame 19:24, July 18, 2011 (UTC)
This policy is not stated anywhere, and renaming rights are given to users, therefore you may not demand that a user asks you to change a name, if a person fixes the links to a page then it should not matter to you. --Hunter Lionblood 04:46, July 19, 2011 (UTC)
As with any edits that create errors on the site, it is the job of the admins to ask the person to stop, and as this is a common problem and the admins set the policies on the site beyond what Wikia lays down, this is a policy. If someone shows they can do it properly following the name standards of the site, then its not worried about. It has been done for a long time on the site, and it helps to avoid hundreds of broken links monthly. And yes, users have renaming rights, but admins have the right to block that renaming when it disrupts the content and linkages of the site. ErinEmeraldflame 06:16, July 19, 2011 (UTC)
Howdy!
HI YA! AutobotPaige
Hi :D Laura
Your ranking
I was doing a bit of looking earlier and found a ranking system.
Because you have 500-1000 edits your a Wikia Master o.o
Lol just thought you'd be interested.

It's under >Wiki How To>Userboxes
X Grabs guardian's outfit and stand proudly X I'm now a Wikia Master, now everyone give me their crowns XD
lol that won't happen. And Thanks for the information. Laura

Oh snaps! @.@ Get 500 more edits and you're a Wikia Grandmaster :D They haven't come up with legendary yet but I'd hate to think what it'd be...
2000 edits?
YAY!
Thanks
Just saying thanks for removing the nasty edits from that one user. He's blocked for 2 years now.
--Potroast42 19:00, September 18, 2011 (UTC)