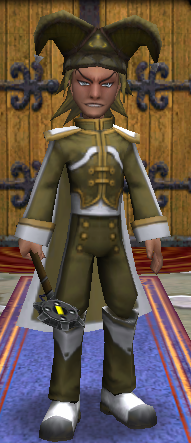 I am an avid player of Wizard101 with multiple wizards.
My strongest wizard: Matthew Willowblossom: Lvl 44 Myth/Storm
Strongest Boss Defeated (Solo): Vilara Moonwraith - 3,000 Health - Dragonspyre
Health - 1,950
Mana - 251
I am one of the Sysops on this wiki and now have [[Special:Editcount/Potroast42|Special:Editcount/Potroast42]] edits making me the #4 editor on this site
I'm lucky enough to be a friend of the Friendly Necromancer in the game! Check this picture out from the Wizard101 Gathering 2009!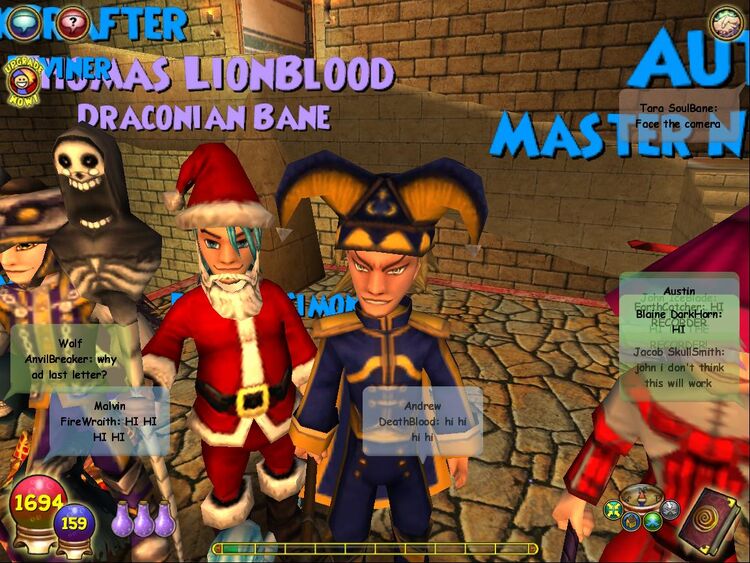 My to-do list (hopefully some people decide to help me)
Add Category Ideas (see below) – est. time: basically the entire summer…
Take screen shots of all of Wizard City's, Krokotopia's, and Marleybone's stores' items and finish the vendors' pages as well as creating pages for all items sold – est. time: basically the entire summer as well…
Finish the sidebar – est. time: 2 days (once I get down to it)
Start a blog on this site – if anyone else wants to start one they can too – est. time: 1-2 days (hopefully today though)
Beat the counterweights and Big Ben (get into MooShu) on Matthew Willowblossom (myth) and reach at least level 42. – est. time: 3 days to get to MooShu, a long time 'til lvl 42
Get the wiki's forums up and running and place a link to them on the sidebar. – est. time: 1-2 days
Change global spells to rank 2 from rank 4 – est. time: <1 day (once I start it)
Add new template to all creatures – est. time: 2-3 days
Create pages for all reagents and the items that can be crafted using them – est. time: very, very, very long…
Finish Arena Tickets Items (screenshots and vendor layout) – est. time: 1-2 days (once I begin) – MUST FINISH BEFORE AUGUST (new season will begin along w/ new items) - thanks Colin
Get screenshots of missing spells – est. time: 1-2 days (might not be able to get all)
Write a new location template using the creature template idea – est. time: 1 day to perfect, 3-4 days to add to all pages
Go through bank and get screenshots of all items that need them and start related pages if necessary – est. time: 2-3 days
Clear out Category:Candidates for deletion and Category:Test Realm – est. time: 1-2 days
Update Harold Argleston and Zan'ne's Treasure Card shops – est. time: 1-2 days - Thanks Colin
Update Editing Guide with housing templates, crafting templates, and new categorization – est. time: 1 day
Get Matthew Daybringer (Balance/Storm) through Krokotopia and reach lvl. 26 (at least) – est. time: 5 days of 100% focus
Reach at least initiate crafter on Matthew Willowblossom – est. time: gradually through the summer
Make a table of all the best items for each school at each level tier (Level 5+, Level 10+, Level 15+, and so on) – est. time: 2 days (need to get more items recorded first)
Have the wiki reach 5,000 pages
Have me, personally reach 5,000 edits
Remodel the home page – make it easier to use and have it more accurately reflect the entire site – est. time: 2-3 days
Create special templates for easier user page construction – est. time: a really long time (will wait 'til after summer when my subscription is expired)
Complete all possible variations of treasure cards – est. time: really, really long (will wait 'til after summer and expired subscription)
Finish the Eye of Bartleby page – est. time: 1-2 days
Top Secret :) – est. time: 5 days
New Category Ideas (If you have questions about the new categories PLEASE READ!)
On Items:

Please note that more than one of the following may apply to an item

Dropped Items – If the item is dropped add this category
Bought Items – If the item can be purchased in a store add this category
Quest Reward Items – If the item is a reward from a quest add this category
Crowns Items – If an item has the little crown item symbol next to it add this category
Arena Ticket Items – If an item can be purchased with arena tickets (from Diego the Duelmaster and that furniture vendor with the trophies (I forget his name)), add this category
Non-Tradable – Add to the items that cannot be traded (ex: Blue Cyclops)
No Auction – Add to the items that cannot be auctioned
Pip-Giving Items – All Items in this category will be wands (considered 'weapons' in the crafting menu)

On Learnable Spells:

Training Point Spells – use special classifying – Blood Bat alphabetized as 1, Troll as 2, Cyclops as 3, Myth Shield as 1 – Classify as training points required to be spent to get to the item.

Crafting

Rank Required -

Novice Crafter
Apprentice Crafter
Initiate Crafter
Adept Crafter
Master Artisian

On ALL Spells

Pip Spells – take out pages from main category and put into sub-categories – Self-Explanatory

0 pip spells
1 pip spells
2 pip spells
3 pip spells
4 pip spells (make sure to change the global spells)
5 pip spells
6 pip spells
7 pip spells
x pip spells

School Exclusive Spells – Spells that are learned through a quest

SCHOOL Exclusive Spells (such as Stun and the minions) – The school of the school exclusive spell
Community content is available under
CC-BY-SA
unless otherwise noted.