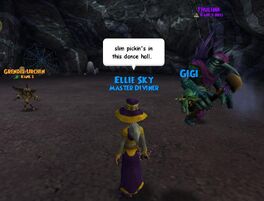 NOTE 11/4/10: I am now the proud owner of the new GameStop $39 game card. WOOT!
About me
I'm 33 years old and a nursing student. (1 more year until I graduate!) My husband and my Mom also play Wizard 101. So, it really is a family affair. I started playing Wizard 101 last year about the time the 1 millionth player was created. Apparently there was a special pet that went with that time period but I was so newbie I didn't know I could get it...so I missed out on it. *sad face* I enjoy playing Wizard 101 a great deal and currently have 3 grand masters (pictures below). They are all named Ellie Sky. Why? I don't want to have an identity crisis. I have 3 baby wizards and I work on them occasionally. [Death (in MooShu), Ice(in Marleybone), Balance (in Krokotopia)] Not going to lie I love the new stitching option! It's all about fashion, Baby!
Current Projects
Boots template conversion.
and
I found the disambiguation page. Good to work on when you only have a few minutes.
My favorite pages