MAJOR GOAL: Finish fixing all of the creature templates.
Current Creature Template Count: 27
About Me
Username: MalornexDeathtalon
Name: Billy Lawlor
Age: 15
Sex: Male
Favorite Realm: Balestrom - Area 1
Hey guys! I love Wizards 101, and play it often. My main character is Stephen Stormtalon (Adept Necromancer), and I don't have any secondary characters at the moment. I am usually on the Server Balestrom in Area 1. I will try my best to make this wiki a better reference tool for players to use.
Current Message: "Guys, its not that hard to help with the current project on the wiki. I actually found helping with it really fun!"
My Wizards
Stephen Stormtalon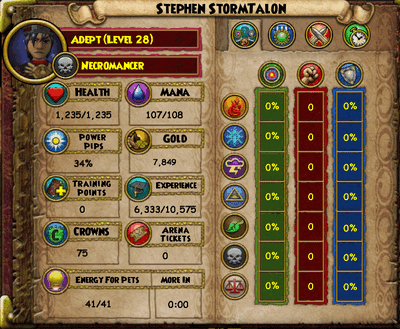 Name: Stephen Stormtalon
Main School: Death (Necromancer)
Secondary School: None (Will Pick One Soon)
Current Level: 28 (Twenty-Eight)
Current Pet: None (I Plan On Pet Training When I Get My Wraith)
Current World of Interest: Grizzlehiem