Description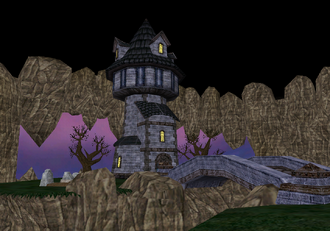 Stormdrain Tower is the home of the dreaded Lord Nightshade and lies at the end of the Haunted Cave. A housing item, Brain Jar, can be picked up inside, near the desk. Those who desire additional loot, such as Nightshade's Bones, without battling Lord Nightshade again may purchase an item from Nightshade's Chest (requires Crowns) before leaving the tower.
This tower contains the History of Death Magic for the quest, Library Dues, as well as an Obsidian Chest for the quest, Wizard Tours.
Creatures
Connects To

Hints, Guides and Discussions should be placed in the Discussion tab.