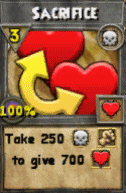 School:

Pip Cost: 3
Accuracy: 100%
Type:

Description: Take 250


to give 700

to self or group member.
Received From: The Sixth School
Requirements:
Required Character Level: End of Wizard City
Spells:
Prerequisite for:
Spells:
Can be purchased with Training Points*: No
*Training Points are only required if you do not belong to the School of the spell. If you belong to the School, the spell is FREE.

For Documentation on how to edit this page see Template:SpellInfobox/doc.
Hints, Guides and Discussions should be placed in the Discussion tab.
Community content is available under
CC-BY-SA
unless otherwise noted.