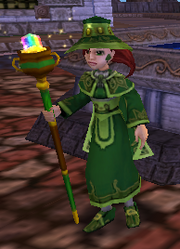 Pat O' Gold is a Holiday NPC, she appears for St. Patrick's Day, but was late and arrived a day late (March 19). She stays for a short period of time and then disappears. She sells exclusive items, themed just for the holiday which will not be available after she has left. Just as Valentina Heartsong did, she offer's items for different levels, making them useful for wizards at any game stage rather than the primarily decorative items that had been available for past holidays. Pat O' Gold hold only one pet to sell, Unlike Valentina Heartsong who had two.
Location: Shopping District
Gives Quest:
Quest Goal:
Ends Quest:
Pat's Weapons
Crown's Only
These items were sold here in March 2009, they may not remain the same for coming years
Wands
Pets

Hints, Guides and Discussions should be placed in the Discussion tab.
Community content is available under
CC-BY-SA
unless otherwise noted.