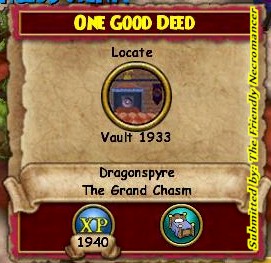 PreQuest: Forward... Into History!
Given by: Belia Windgazer
Goals:
Locate Vault 1933
Defeat Vasek Ashweaver and Collect Portal Stone
Talk to Belia Windgazer
Hand In: Belia Windgazer
Reward:
2,230 XP (image is out of date)
Next Quest in Series: Stone Free
Hints, Guides and Discussions should be placed in the Discussion tab
Community content is available under
CC-BY-SA
unless otherwise noted.