Mortis is the Death Tree in Nightside. To find him you will have to defeat Lord Nightshade (you must complete a quest for Merle Ambrose). When you defeat Lord Nightshade, he will drop a book. With that book is has the key to Nightside, which is where the Death School is. Nightside is also the place where you can learn the more advanced Death spells from Dworgyn. You will find Mortis to the left of the Death School, directly across from the entrance door. Mortis may have some relation with The Dragonspyre Academy Death Tree.
Location: Nightside
Quest Goal: Mything Persons
Trainable Spells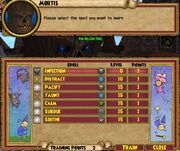 Mortis's Recipe Shop
Treasure Card Recipes
Hints, Guides and Discussions should be placed in the Discussion tab.
Community content is available under
CC-BY-SA
unless otherwise noted.