This Is A
Stub
Please Help Us By Expanding It.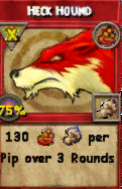 School: Fire
Rank: X
Accuracy: 75%
Type: Damage per pip
Damage: 120 per pip over 3 rounds (40 damage: 1 pip, 80 damage: 2 pips, ect.)
Description: 120 Fire Damage per pip over 3 rounds
Received From: Dalia Falmea (fire teacher)
Requirements:
Spells: Fire Prism, Link
Level: 18
Training Points*: N/A
*Training Points are only required if you do not belong to the School of that spell. If you belong to the School, the spell is FREE.
Prerequisite for:
Spells: Fire Elemental, Smoke Screen, Fire Dragon

Note: Also a rare treasure card.
Hints, Guides and Discussions should be placed in the Discussion tab.