This Is A Stub Please Help Us By Expanding It.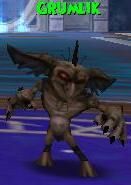 Location: Grizzleheim - Nidavellir
Gives Quest:
Quest Goal:
Ends Quest:
Not much is known about Grumlik. It is suspected that he warned players about one of the bosses cheating at one point.
Hints, Guides and Discussions should be placed in the Discussion tab.
Community content is available under
CC-BY-SA
unless otherwise noted.