Description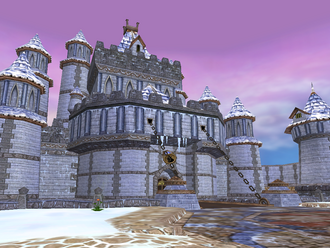 This Castle is where you will find the giant Gobbler King(floating up on the second floor) and his son Prince Gobblestone. Along with a throne room, the place seems to be filled with crates of food, pies, piles of jelly beans, and turkey legs, all provided for both the prince and the king. When you enter you will hear the king eating upstairs.
The castle also contains the History of Ice Magic book for the quest Library Dues.
NPCS
Creatures
Connects To
Hints, Guides and Discussions should be placed in the Discussion
Community content is available under
CC-BY-SA
unless otherwise noted.