Description
---
Theurgists and Necromancers must defeat this boss nine times in a row during their Level 28 Spell Quest

Speeches:
Arival: "So, your master Dworgyn/Moolinda Wu sent you to me? All right, then... time to do the dance."
After 1st Defeat: "You got lucky. Let's go again!"
After 2nd Defeat: "I'll get closer next time."
After 3rd Defeat: "My lucky coin didn't work this time."
After 4th Defeat: "I won't give up! You got lucky!"
After 5th Defeat: "Do you have a rabbit's foot with you? You're awfully lucky."
After 6th Defeat: "I've had it! You're going down this time!"
After 7th Defeat: "I need some more catnip...
After 8th Defeat: "I shall never surrender!
After 9th Defeat: "Well I'll be darned... You've done it!
Exit: "You're pretty good. That was quite a challenge. Return this coin to Dworgyn/Moolinda. You've earned it."
Hint:Theurgists he has no life shields so feel free to use your life spells, and for Necromancers use the prism, trust me I had to do this at adept.(I know I sound like a showoff but I am really just saying how good this strategy is.)
Freddy Nine Lives at a Glance: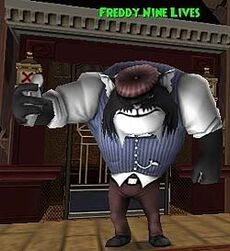 Rank: 4 Boss
Health: 1,000
Creature Class: Cat
School:

Boost: 30% boost to

Resist: 60% resist to

Physical Attack: Deals 90

damage per pip.
Location: Marleybone- Chelsea Court

Spells Known
---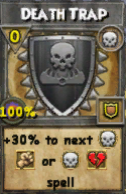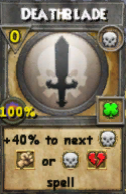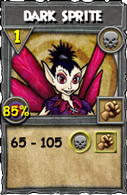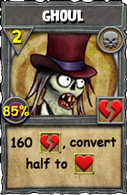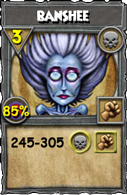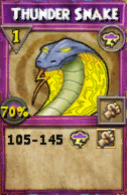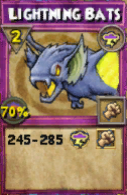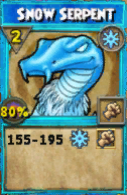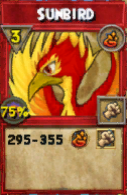 Items Dropped
---
Gold:

9-15
Hats:
Robes:
Wands:
Athames:
Amulets:
Rings:
Decks:
Pets:
House:
Treasure Cards:
Reagents:
Snacks:
Mounts:
Quest Appearances
---
Hints, Guides and Discussions should be placed in the Discussion tab.
Documentation on how to edit this page can be found at Template:CreatureInfobox/doc
Community content is available under
CC-BY-SA
unless otherwise noted.