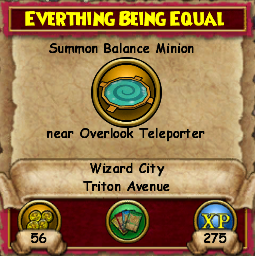 PreQuest: Sorcerer's Apprentice
Given by: Arthur Wethersfield
Goals:
Summon Balance Minion (Priya) near overlook teleporter
Talk to Arthur Wethersfield and say "Meena Korio Jajuka!"
Hand In: Arthur Wethersfield
Reward:
56 gold
275 experience
Balanceblade spell
Leads to: None
Hints, Guides and Discussions should be placed in the Discussion tab.
Community content is available under
CC-BY-SA
unless otherwise noted.