m

Line 1:
Line 1:
−

[[File:User30767 pic30304 1255552419.png|thumb|268px|right|Front of the Death House]]The Death house is focused mainly on haunts and chills, the house mainly being a haunted house. Death does not have to be your School of Focus in order to buy this. Available for 10,000 Crowns or 100,000 Gold Coins. Go to the Shop Button on your main screen and go to houses to preview/buy.

+

[[File:User30767 pic30304 1255552419.png|thumb|268px|right|Front of the Death House]]The Death house is focused mainly on haunts and chills, the house mainly being a haunted house. Death does not have to be your School of Focus in order to buy this. Available for 10,000 Crowns or 100,000 Gold. Go to the on your screen and go to houses to previewbuy.

 
 
 

<u>Features</u>

 

<u>Features</u>

 

*Past the gates, there's a set of stairs leading up to the house. Bone hands holding candles light the way

 

*Past the gates, there's a set of stairs leading up to the house. Bone hands holding candles light the way

 

*Surounding the house are dead trees which give it an even more chilling look because it makes it seem even more dark and depressing .

 

*Surounding the house are dead trees which give it an even more chilling look because it makes it seem even more dark and depressing .

 
+

*Skulls are in almost every location of the outside of the house.

−

*Also, skulls are in almost every location of the outside of the house, and on the road outside the gate which is my favorite part of the house (the gate not the road, which I block the gate entrance with bamboo barriers, and open and close it when my friends aren't looking, like a ghost opening and closing a door like in a haunting.)

 
−

*On the second level to the left, there is a crypt and a dirty swimming pool, that's why the home preview person says the pool service hasen't been around in a while.

+

*On the second level to the left, there is a crypt and a dirty swimming pool, why the home preview person says the pool service hasen't been around in a while.

 

*On the second level to the right, there is an open doorway leading down to the basement.

 

*On the second level to the right, there is an open doorway leading down to the basement.

 

*Inside the basement there is a furnace that blows fire every few seconds. A red door to the right of it leads into the the house.

 

*Inside the basement there is a furnace that blows fire every few seconds. A red door to the right of it leads into the the house.

−

*Inside the house, the grand stairway leads up to a trophy room, a bedroom with a windowed gable, and an all-purpose room.

+

*Inside the house, the grand stairway leads up to a trophy room, a bedroom with a windowed gable, and an all-purpose room.

 

*There are two small rooms, one possible dining room, and a long room.

 

*There are two small rooms, one possible dining room, and a long room.

−

*Also in the main hall, look up...at the bone chandelier.

+

* the main hall, the bone chandelier.

−

*Also, outside, an eerie fog covers the ground outside, and if you look closely the house changes it's appearance by the porch's colums turn into teeth and the roof bends to make it look like the house is angry and about to eat anyone who dares to enter.

+

*Also, outside, an eerie fog covers the ground outside, and if you look closely the house changes it's appearance by the porch's turn into teeth and the roof bends.

 

[[Category:House]]

 

[[Category:House]]

 

[[Category:Crown Items]]

 

[[Category:Crown Items]]
---
Revision as of 20:37, 4 August 2010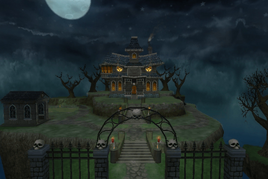 The Death house is focused mainly on haunts and chills, the house mainly being a haunted house. Death does not have to be your School of Focus in order to buy this. Available for 10,000 Crowns or 100,000 Gold. Go to the Crowns Shop on your screen and go to houses to preview or buy them.
Features
Past the gates, there's a set of stairs leading up to the house. Bone hands holding candles light the way
Surounding the house are dead trees which give it an even more chilling look because it makes it seem even more dark and depressing .
Skulls are in almost every location of the outside of the house.
On the second level to the left, there is a crypt and a dirty swimming pool, which is why the home preview person says the pool service hasen't been around in a while.
On the second level to the right, there is an open doorway leading down to the basement.
Inside the basement there is a furnace that blows fire every few seconds. A red door to the right of it leads into the the house.
Inside the house, the grand stairway leads up to rooms suggested to be a trophy room, a bedroom with a windowed gable, and an all-purpose room.
There are two small rooms, one possible dining room, and a long room.
In the main hall, above is a the bone chandelier.
Also, outside, an eerie fog covers the ground outside, and if you look closely the house changes it's appearance by the porch's columns turn into teeth and the roof bends.
Community content is available under
CC-BY-SA
unless otherwise noted.