This Is A Stub Please Help Us By Expanding It.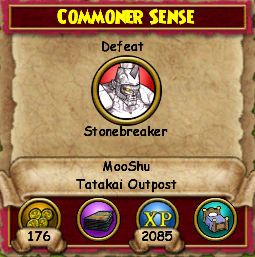 PreQuest: Old Wives' Tale
Given by: Shai Fung
Goals:
Defeat Stonebreaker in Tatakai Outpost
Talk to Shai Fung
Hand In: Shai Fung
Reward:
176 Gold
2,085 XP
Deck according to school

Balance:
Death: Deck of Pondering
Fire: Deck of Reflection
Ice: Introspective Deck
Life: Deck of Deep Thought
Myth: Contemplative Deck
Storm: Meditative Deck
Leads to: None
Hints, Guides and Discussions should be placed in the Discussion tab.
Community content is available under
CC-BY-SA
unless otherwise noted.