Throughout your wizard's journey, you will obtain various Badges. Badges are provided in recognition of difficult and arduous tasks that you have completed during your studies. Badge tasks often include defeating a large number of the same kind of monster, defeating certain Bosses or Towers, or helping protect a location.
You can access your list of Badges from your character screen. Press "C" or select the top tab in your spell book to access your character screen. Then, click on the second tab (the green badge in the blue circle) of the four in the upper right of your character screen.
Here, you can look at what Badges you have, the Badges you have discovered, and your progress for each Badge.
Clicking on a Badge will highlight it on your list and display it as your title on your name plate, allowing other players to see your Badge.
If you click on the "No Title" line at the top of your first page of Badges, it will show your level status and the kind of wizard you are based on your school. Click here to see a list of level and school titles you can display using the 'No Title' Option. This is the Badge you start the game with.
Page 1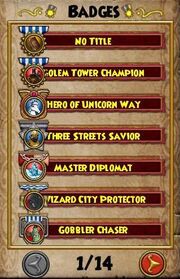 Page 2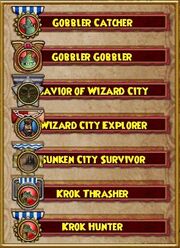 Page 3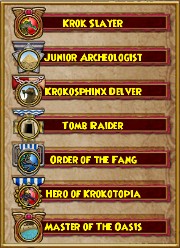 Page 4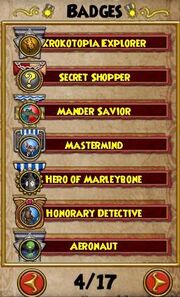 Page 5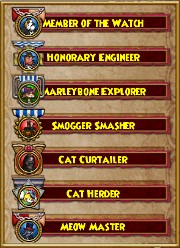 Page 6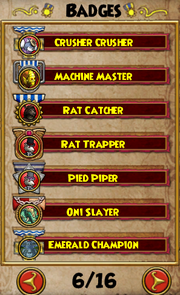 Page 7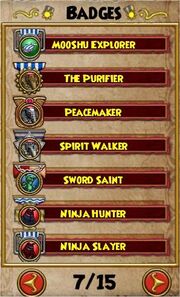 Page 8
Page 9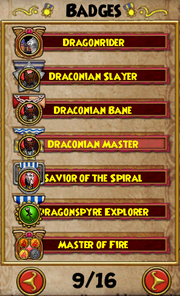 Page 10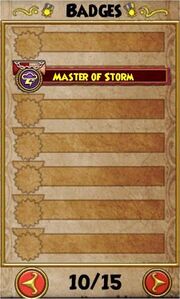 Please Note: It is only possible to get your own Schools Badge.
Page 11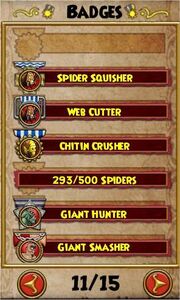 | | |
| --- | --- |
| Title | Condition |
| | |
| Spider Squisher | Defeat 50 Spiders |
| Web Cutter | Defeat 100 Spiders |
| Chitin Crusher | Defeat 250 Spiders |
| Spiderbane | Defeat 500 Spiders |
| Giant Hunter | Defeat 50 Giants |
| Giant Smasher | Defeat 100 Giants |
Page 12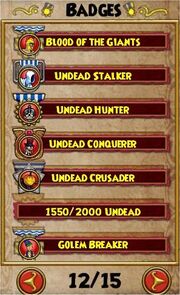 | | |
| --- | --- |
| Title | Condition |
| Blood of the Giants | Defeat 350 Giants |
| Undead Stalker | Defeat 50 Undead |
| Undead Hunter | Defeat 100 Undead |
| Undead Conquerer | Defeat 500 Undead |
| Undead Crusader | Defeat 1,000 Undead |
| Undead Slayer | Defeat 2,000 Undead |
| Golem Breaker | Defeat 50 Golems |
Page 13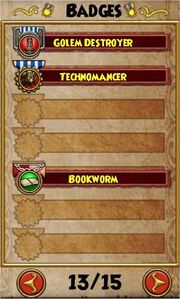 Page 14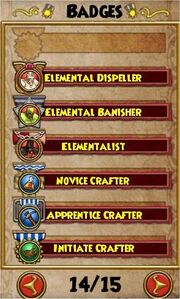 Page 15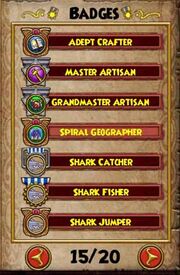 | | |
| --- | --- |
| Title | Condition |
| Adept Crafter | Complete all quests for Toshio |
| Master Artisan | Complete all quests for Balthazar Dragonthorn |
| Grandmaster Artisan | Complete all quests for |
| Spiral Geographer | Complete all Celestia quests |
| Shark Catcher | Defeat 50 sharks |
| Shark Fisher | Defeat 100 sharks |
| Shark Jumper | Defeat 200 sharks |
Page 16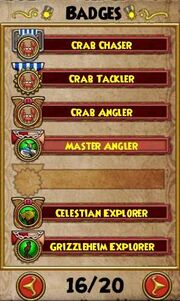 | | |
| --- | --- |
| Title | Condition |
| Crab Chaser | Defeat 50 Crabs |
| Crab Tackler | Defeat 100 Crabs |
| Crab Angler | Defeat 200 Crabs |
| Master Angler | Complete all Shark and Crab badges |
| | |
| Celestian Explorer | Complete Lounging Lizards quest |
| Grizzleheim Explorer | Complete Yardbird quest |
Page 17
| | |
| --- | --- |
| Title | Condition |
| PVP Badge | Changes each PVP rank after sergeant |
| Pet Badge | Changes each Pet rank after sergeant |