Description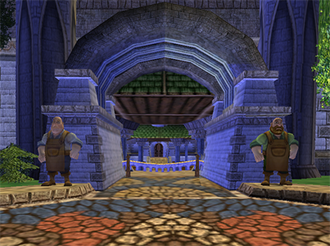 The Player Vs. Player Arena. There can be up to 4 players on each team. In arena duels, all damaging spells are strengthened, but the healing spells remain the same. This is to help battles move along more quickly. There are two different types of matches available here, depending on the type of account you have.
NPCS
There are two silent figures here called Ranked and Practice that give you access to the respective types of PVP matches. Ranked can only be accessed by those with a subscription account or those who chose to buy Ranked battles with Crowns, whereas Practice is open for all.
NOTE: The two men are now replaced with two scroll statues, similar to the ones in the Pet Pavilion.
Connects To
Arena Ticket
Arena tickets are earned during Player vs. Player (PvP) duels and can be redeemed at one of two vendors places both of which are located directly outside the arena doors. On the left, Dueling Diego offering the finest equipment for your class. On the right, Roland Silverheart offering items for your house. Some items purchased thorough these vendors have an Arena rank requirement.
Hints, Guides and Discussions should be placed in the Discussion tab.