This Is A
Stub
Please Help Us By Expanding It.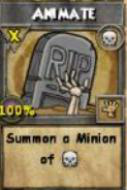 School: Death
Rank: 1 - 14
Accuracy: 100%
Type: Manipulation
Description: Summon a Minion of Death for 1 - 14 Pips (Summons: Various Death Minions)
Received From: Learning a Lesson
Hints, Guides and Discussions should be placed in the Discussion tab.
Community content is available under
CC-BY-SA
unless otherwise noted.